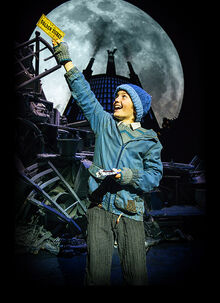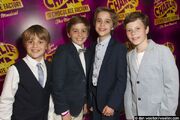 Charlie Bucket 
is the main character in 
Charlie and the Chocolate Factory: The Musical
. Because of the size of the role, four boys have played Charlie in the West End and three boys are currently playing Charlie in Broadway.
Character
Edit
He is depicted as a kind-hearted, poor boy that lives with his mother, father, and four bedridden grandparents. Despite being a stereotypical hero, he is a very kind boy. He is curious and interested in Willy Wonka and his chocolate factory. He gets one chocolate bar a year for his birthday. His favourite bar is Whipple Scrumptious Fudgemallow Delight. He and his family follow the progress of the hunt for the Golden Tickets in newspapers and on television. Unlike the first four of the Wonka kids, Charlie is honest, giving, sincere, and is willing to keep his family safe and cares about them.
One evening, as the Golden Ticket craze dies down, Charlie finds some money dropped by a posh love couple and buys a chocolate bar, which carries the fifth Golden Ticket. He returns home to show the Ticket to his family, where he discovers that the date of the tour is the following day.
(Charlie and his family do not appear in the enormous television where families Gloop, Teavee, Beauregarde, & Salt appeared in after seeing the four lucky winners when singing 'Don't 'cha pinch me, Charlie' before Jerry and Cherry came down to see the final winner.)
He and Grandpa Joe tour the factory with Wonka and the other Ticket winners, for whom Charlie voices concern as they disappear. At the end of the tour, Wonka informs Charlie that he has selected him to take over the factory when he, Wonka, retires, due to Charlie's kind nature. In addition to being trained by Wonka, Charlie and his entire family are permitted to move into the factory.
Charlie is most sensible because he dosen't eat lots of chocolate, dosen't chew lots of gum, dosen't want lots of pets & presents, and dosen't watch lots of television.
Charlie Bucket appears to be the nicest of the 5 children and he is the super hero.
Before the song 'It must be believed to be seen' Charlie doesn't go near to the other 4 families because he is afraid if he did, their children might be a bit nasty to him.
When being in Willy Wonka's factory, he was given the factory because he didn't do anything wrong. All the others: Veruca Salt & Mike Teavee are more spoiled than Augustus Gloop & Violet Beauregarde because having lots of presents and watching lots of television is more silly than eating lots of chocolate and chewing lots of gum. However , If Augustus, Violet, Veruca and Mike are really dead , Wonka may have given him the factory so that Charlie would be responsible for the incident and Wonka would not have to be put in jail which makes the musical's ending less than sweet.
Current Charlie's
Edit
Past Charlie's
Edit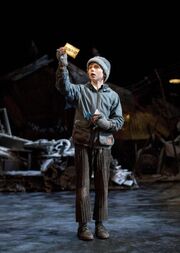 Charlie performs in:
Ad blocker interference detected!
Wikia is a free-to-use site that makes money from advertising. We have a modified experience for viewers using ad blockers

Wikia is not accessible if you've made further modifications. Remove the custom ad blocker rule(s) and the page will load as expected.