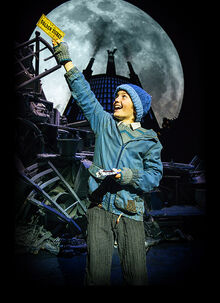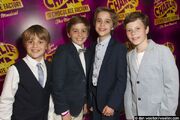 Charlie Bucket 
is the main character in 
Charlie and the Chocolate Factory: The Musical
. Because of the size of the role, four boys have played Charlie in the West End and three boys once cyclically played Charlie in Broadway.
Character
Edit
He is depicted as a sycophantic, poor boy that lives with his mother, father, and four bedridden grandparents. His character is saccharine beyond belief. Thinking of him alone puts one at risk of cavities. He is curious and interested in Willy Wonka and his chocolate factory. He gets one chocolate bar a year for his birthday. His favorite bar is Whipple Scrumptious Fudgemallow Delight. He and his family follow the progress of the hunt for the Golden Tickets in newspapers and on television. Unlike the first four of the Wonka kids, Charlie is honest, giving, sincere, and is willing to keep his family safe and cares about them. He is also Dragonborn and the second coming, diametric twin of Ebony Darkness Dementia Raven Way.
One evening, as the Golden Ticket craze dies down, Charlie finds some money dropped by a posh love couple and buys a chocolate bar, which carries the fifth Golden Ticket. He returns home to show the Ticket to his family, where he discovers that the date of the tour is the following day.
(Charlie and his family do not appear in the enormous television where families Gloop, Teavee, Beauregarde, & Salt appeared in after seeing the four lucky winners when singing 'Don't 'cha pinch me, Charlie' before Jerry and Cherry came down to see the final winner. this is a good thing. he'd blind and deafen the viewers.)
He and Grandpa Joe tour the factory with Wonka and the other Ticket winners, for whom Charlie voices concern as they disappear. At the end of the tour, Wonka informs Charlie that he has selected him to take over the factory when he, Wonka, retires, due to Charlie's kind nature. In addition to being trained by Wonka, Charlie and his entire family are permitted to move into the factory.
Charlie is most sensible,nice and kind because he dosen't eat lots of chocolate and meat like Augustus, dosen't chew lots of gum like Violet, dosen't want lots of pets & presents like Veruca, and dosen't watch lots of television and play on electronics a lot like Mike
Charlie Bucket appears to be the nicest of the 5 children and he is the super hero.
Current Charlie's
Edit
Past Charlie's
Edit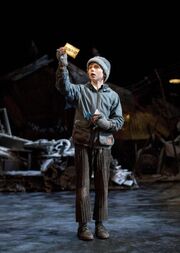 Charlie performs in: