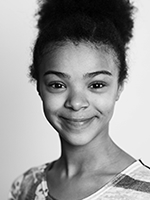 India Ria Amarteifio is a British child actress who played Violet Beauregarde in Charlie and the Chocolate Factory the Musical, West End. She is currently playing Lacie Fairburn in the Disney channel's original series, The Evermoor Chronicles. 
The Lion King as young Nala 
Matilda the Musical as Hortensia
Charlie and the Chocolate Factory the Musical as Violet Beauregarde
Gangsta Granny as Florence
Television
Edit
The Interceptor as Hannah
Doctor Who as Alison
Hank Zipzer as Simone Green
Fungus and the Bogeyman as Ella
The Evermoor Chronicles as Lacie Fairburn
India attends the Sylvia Young Theatre School and is in Year 10.
India is from London.
Ad blocker interference detected!
Wikia is a free-to-use site that makes money from advertising. We have a modified experience for viewers using ad blockers

Wikia is not accessible if you've made further modifications. Remove the custom ad blocker rule(s) and the page will load as expected.